It is said that those who sing, pray twice.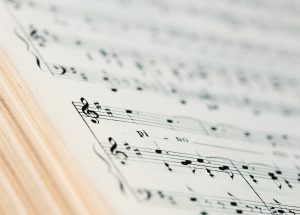 The Music Ministry Music touches the soul in a way that nothing else can.  It is very important that we develop this ministry so the assembly will respond joyfully and leave Mass fulfilled and excited.
Cantor
The cantor must be able to lead the assembly in song. They will sing the Responsorial psalm and Alleluia acclamation. Cantors announce hymns, greet the congregation at the beginning of Mass. This position is vital to the music ministry to help bring the liturgy together.
Choir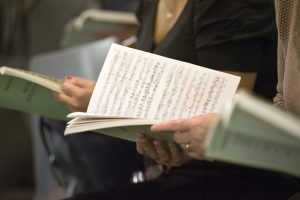 To join the adult choir a parishioner needs to be old enough to read the words and learn the music, have a desire to grow in the development of his/her musical skill and the focus to move forward in this ministry. There should be a willingness to cooperate with the director of music and his assistant. You must make a commitment to be at choir practice on a regular basis and sing at Mass on Sunday. You also must be a help in recruiting new choir members.
The adult choir sings at the 10:30 am Mass at Prince of Peace.
Children's Choir
To join the children's choir you must be old enough to sing and follow instructions.  If you child is interested please contact Kristen Avila at 231 744-3321 ext 127.
Children's Hand Chime Choir
We have started the Children's Hand Chime Choir. Members of the Chime choir do not necessarily need to read music, however they will need to make the practices on a regular basis.
---
Contact Information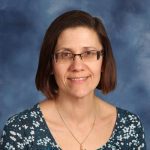 Kristen Avila
Music Director
(231) 744-3321 ext. 127
kavila@princeofpeacenm.org
More about Kristen Avila
My name is Kristen Avila, and I am very excited to be the music director for Prince of Peace Parish and St. Mary of the Woods Chapel.
My family and I were parishioners at St. Francis de Sales in Norton Shores where I have been very active in the music ministry as a cantor, choir member, and playing piano for daily mass and choir whenever needed.  I have been married to my husband, Jim, for 24 years, and we are blessed with six great kids: Becky is 23 and a student at Michigan State University, Brendan is 21 and a student at Franciscan University of Steubenville, Ohio, Ryan is 17 and an 11th grader at Interlochen Arts Academy, Kelly is 14 and an 8th grader at Mona Shores Middle School, Anna is 10 and a 5th grader at Churchill elementary, and Megan is 7 and a 1st grader at Churchill Elementary.
I teach private piano lessons at my home in Norton Shores, and I accompany the Mona Shores Children's choirs after school.  I also do some work with the FJH Music Company, which includes being a pilot teacher for new teaching methods and have co-written several books on music history and music theory.  In the summer I also teach music history at a week-long piano camp held at St. Cecelia's Music Center in Grand Rapids.  In my spare time I enjoy scrapbooking and making cards, camping with my family, going to our children's concerts, and playing cards and games.  I am very thankful for the opportunity to serve you as the new Music Director, and I look forward to meeting and getting to know all of you.
If you see Kristen, please stop, introduce yourself, give her a warm welcome, and maybe join the choir!