Children's Liturgy of the Word (CLOW) meets in the Education Wing, room 407
Program Overview
Children 3-7 years of age are invited forward during the Sunday 10:30 am mass.
Fr. Godfrey extends a special blessing over the children before dismissal to our Education Wing, room 407.
A Children's Lectionary is used for the Sunday readings. Each week we reflect on God's word, recite a simple proclamation of faith and end with prayer intentions.
Children return to church during the offertory.
Parents are welcome to accompany their children to our CLOW room.
Catechist Schedules
CLOW Schedule May 5-Sept. 1, 2019
Catechist Resources
---
Contact Information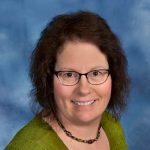 Donna Phillips
Children's Faith Formation Coordinator
(231) 744-3321 ext. 128
pop.religioused@catholicweb.com